By Change100
Hollywood, CA
I may not be a sports bettor, but I am a gambler and I know value when I see it. It really is just like Pauly says-- it's like the line lights up like the numbers on the windowpane in
A Beautiful Mind
and floats off the page. While I can't say anything intelligent about the 49ers' secondary and barely know the difference between Ray Lewis and Ray Rice, I do know something about Hollywood and the yearly orgy of self-congratulatory fetes we call Awards Season. With 24 days to go before the Oscars, we're in the thick of it and after this week's flurry of guild awards, betting lines are moving faster than Justin Beiber's Porsche in a paparazzi chase.
Hopefully all you
Ocelot Sports Twitter
followers picked up my juicy tip last weekend on
Argo
at +300 to win Best Picture. Sportsbook.com took almost a full 24 hours after the Producer's Guild of America awards (where the film won Best Picture) to adjust their lines. As of Tuesday night, that line was even money on Sportsbook and 2/3 on Bovada. 16 out of the last 22 times, the winner of the PGA award for Best Picture goes on to win the Best Picture Oscar. In the last five years, it's 5-0. And since 2009, the PGAs and the Oscars have utilized the same voting system-- preferential balloting. Instead of voting for one of the ten nominated films, members rank them from 1-10. So this line didn't so much float off the page as it lit up in neon and punched me in the face.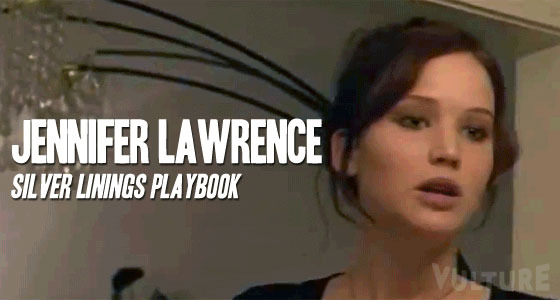 Crazy-eyes J. Law!
Although the
Argo
value has come and gone, there are still a few good spots out there when it comes to Oscar betting. I like Tommy Lee Jones for Best Supporting Actor at +120 on Sportsbook, especially since the line has already moved to -140 on Bovada. Christoph Waltz also still has some value in that category at +300. Another good play is Jessica Chastain at +200 for Best Actress. Three days ago, she was +150, but Jennifer Lawrence's win at the SAG Awards saw her line adjust from -140 to -250. I think we could be at the peak of the J.Law Oscar hype and I think the Academy might ultimately favor the more serious turn from Chastain rather than awarding two acting trophies to ingenues under 30 (Anne Hathaway has a virtual lock on the Supporting Actress category at least with the oddsmakers, who have her at -10,000).
Here's a look at the major category Oscar nominations. The first number is the line from January 26th (before PGA, DGA and SAG awards). The second is today's line. These lines will certainly move again this weekend with Saturday's Director's Guild of America awards, so if any of these prices look good, now's the time to get your bets in.
BEST PICTURE
Amour +5000 (now +5000)
Argo +300 (now EVEN)
Beasts of the Southern Wild +7500 (now +7500)
Django Unchained +5000 (now +5000)
Les Miserables +1500 (now +2500)
Life of Pi +2000 (now +5000)
Lincoln -250 (now -140)
Silver Linings Playbook +2500 (now +2500)
Zero Dark Thirty +2500 (now +2500)
BEST ACTOR
Bradley Cooper (Silver Linings Playbook) +5000 (now +5000)
Daniel Day-Lewis (Lincoln) -10000 (now -10000)
Denzel Washington (Flight) +3000 (now +5000)
Hugh Jackman (Les Miserables) +1000 (now +1000)
Joaquin Phoenix (The Master) +5000 (now +2500)
BEST ACTRESS
Emmanuelle Riva (Amour) +600 (now +1000)
Jennifer Lawrence (Silver Linings Playbook) -140 (now -250)
Jessica Chastain (Zero Dark Thirty) +150 (now +200)
Naomi Watts (The Impossible) +2000 (now +2500)
Quvenzhane Wallis (Beasts of the Southern Wild) +2500 (now +3000)
BEST DIRECTOR (no lines moved)
Ang Lee (Life of Pi) +400
Behn Zeitlin (Beast of the Southern Wild) +2500
David O Russell (Silver Linings Playbook) +1500
Michael Haneke (Amour) +1500
Steven Spielberg (Lincoln) -800