By Buffalo66
Buffalo, NY
It's never too early to start talking college football, right?
As I was planning my upcoming trip to Vegas, my friends in Buffalo were pestering me about placing some college football future bets for them. And they know how much I hate futures. My philosophy is this: Make your money work for you today instead of putting it on the sideline for the whole season. (This is why I don't play season long fantasy games anymore. I digress.)
If you're going to bet a team to win a BCS championship, they will likely go undefeated. And if they will go undefeated, you will make MUCH more betting them every week and rolling it over. So I made my friends a deal. If they would put up $50 each, I would match their total and we would let our pool ride every week on the upcoming season. I was surprised how quickly they all said yes!
Now who do we bet on? From my point of view there are three teams with a legitimate shot to go 12-0 (before championship games and bowls): Ohio State, Lousiville and Alabama. While the Crimson Tide are defending champs, their schedule is by far the toughest, so I'm going to stay away from them.
Ohio State is coming off an undefeated season where they were not bowl eligible. They have one of the best coaches in Urban Meyer. And they return QB Braxton Miller, who finished 5th in the Heisman voting.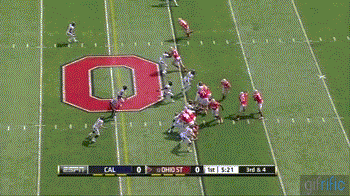 Right now he is fighting to keep his starting gig, so you know the Buckeyes are deep. Best of all, they have a pretty weak schedule this year:
08/31/13

vs. Buffalo


09/07/13

vs. San Diego State
09/14/13

at California


09/21/13

vs. Florida A&M


09/28/13

vs. Wisconsin *


10/05/13

at Northwestern *
10/19/13

vs. Iowa *
10/26/13

vs. Penn State *


11/02/13

at Purdue *


11/16/13

at Illinois *


11/23/13

vs. Indiana *


11/30/13

at Michigan *
No Michigan State or Nebraska on the schedule. Cal could be a trap game as Sonny Dykes brings his no huddle offense from Louisiana Tech. But the only true worry spot should be Michigan on Thanksgiving weekend.
Louisville is licking their chops entering the final season of play in the pitiful Big East conference. They also have a leading Heisman candidate in QB Teddy Bridgewater.
This is a team that should score points whenever they need them. Their schedule is quite soft:
09/01/13

vs. Ohio
09/07/13

vs. Eastern Kentucky
09/14/13

at Kentucky


09/21/13

vs. FIU


10/05/13

at Temple #


10/10/13

vs. Rutgers #


10/18/13

vs. UCF #


10/26/13

at USF #


11/08/13

at Connecticut #


11/16/13

vs. Houston #


11/23/13

vs. Memphis #


12/05/13

at Cincinnati #
This schedule looks more like the old Metro Conference from the 1980's. I only see Rutgers and Cincy on the road as difficult opponents.
So what is the wagering plan? There are three methods depending on your level of risk tolerance:
Conservative plan: Bet Buckeyes ML OR Cards ML each week, based on which game gives you better odds.

Moderate plan: Parlay Buckeyes ML / Cards ML each week. Throw in Alabama ML if one of the teams is off that week.

Risky plan: Teaser parlay Buckeyes spread / Cards spread each week. Teams that go 12-0 almost never cover 12-0, but 6.5 points off the spread could help.
I imagine that once we start rolling our funds over a few times our risk tolerance will drop dramatically. In fact, the last game of the season for both teams might make me stop outright after 11-0.
Time will tell if the investment plan is folly or fortune.